The photographer and his muse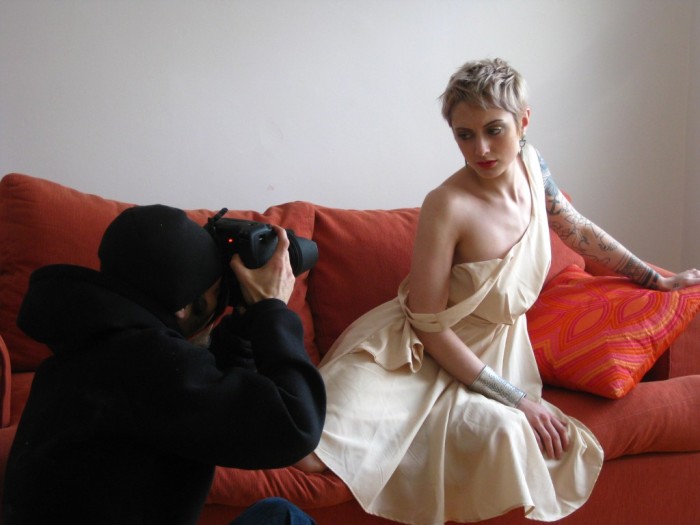 I met Oro and David this past winter on one of the coldest days.  Little did I know I would meet two warm-hearted and coolest people ever!  I was up to a fabulous shoot at David's place…quite memorable indeed.   The mood was creative, anything goes really.  We planned to do 3 looks and the shoot lasted a whole day moving from the living room, to the bedroom and ending up in the kitchen!  All that under the eyes of Shiva, David's darling dog:)
1st look:
Oro wore this delicate, beige satin dress which was beautifully constructed.  So I decided to go with an elegant makeup that would enhance Oro's exquisite features and especially her captivating eyes.  And for her lips, I picked a reddish-coral lipstick to compliment the whole look.
2nd look:
That's when we wanted to jazz it up a bit more… we were heading to the bedroom after all!:P  Oro had this pink and gold colored corset which inspired me to reproduce the same tones of colors on her eyes.
3rd look:
We were running a bit late as Oro had to go for a dinner.  When I saw her in the faux-fur hat and blond wig, she looked very much as a fashionable Russian lady!  So I decided on an intense eye makeup and I toned down her eyebrows to give an even higher-impact eye look.
I absolutely love the end results.  David captured gorgeous pictures of his muse and it's one of those shoots, where your heart beats a bit faster because you know the outcome will be something extra special.  That day, I felt the heartbeats!:)
Photographer: David Strange
Model: Oro
MUA: Nathy Fong