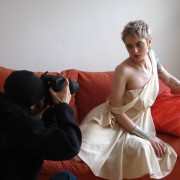 I met Oro and David this past winter on one of the coldest days.  Little did I know I would meet two warm-hearted and coolest people ever!  I was up to a fabulous shoot at David's place…quite memorable indeed.   The mood was creative, anything goes really.  We planned to do 3 looks and the shoot lasted a whole day moving from the living room, to the bedroom and ending up in the kitchen!  All that under the eyes of Shiva, David's darling dog:)
1st look:
Oro wore this delicate, beige satin dress which was beautifully constructed.  So I decided to go with an elegant makeup that would enhance Oro's exquisite features and especially her captivating eyes.  And for her lips, I picked a reddish-coral lipstick to compliment the whole look.
2nd look:
That's when we wanted to jazz it up a bit more… we were heading to the bedroom after all!:P  Oro had this pink and gold colored corset which inspired me to reproduce the same tones of colors on her eyes.
3rd look:
We were running a bit late as Oro had to go for a dinner.  When I saw her in the faux-fur hat and blond wig, she looked very much as a fashionable Russian lady!  So I decided on an intense eye makeup and I toned down her eyebrows to give an even higher-impact eye look.
I absolutely love the end results.  David captured gorgeous pictures of his muse and it's one of those shoots, where your heart beats a bit faster because you know the outcome will be something extra special.  That day, I felt the heartbeats!:)
Photographer: David Strange
Model: Oro
MUA: Nathy Fong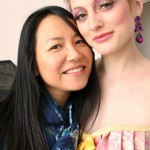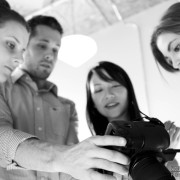 I meant to post about this shoot a while ago, but I wanted to have some pictures to show you first.  The shoot was done on a Sunday morning with 3 models from Next Agency and the photographer was Jeremy Bobrow.  It was my first time working with the crew and that's always exciting, yet tiny bit nerve-wracking!  Although from our phone conversation, I could tell Jeremy was a funny and easy-going guy which in my mind, we were bound to get along!  Once on set, we all brainstorm together and we decided on 3 different looks for each model.
Dimitra: Sophisticated look with a pop of color on the eyes.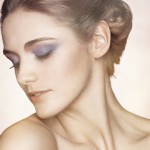 Louka: Light smoky brown eyes to match the loose wavy hairstyle.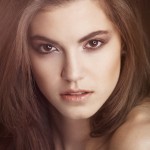 Kasia: Red carpet look with an edgier eye makeup.  (Why? Because when Kasia came in, we all noticed her striking resemblance to Angelina Jolie!!  And it was Oscar night that day so we went along with the idea!)
The models were gorgeous, super friendly and all I remember is, we were cracking up most of the time!  I think the whole crew ended having loads of fun and the pictures speak for themselves.  Vanessa, the assistant of Jeremy took some beautiful black and white backstage pictures. She captured perfectly the atmosphere of the day and her pictures make wonderful souvenirs!
Ever since that shoot, I was lucky enough to work alongside Jeremy on few occasions.  I've seen him working with models, actresses and 'regular' people and I was really impressed by the way he makes everyone feel at ease and he's a master at giving clear directions.  That is when it comes to his field/photography, I'm still in the progress of 'decoding' his makeup visions I have to admit.  It's a challenge!  Regardless he's a very talented photographer who manages to get the best out of you!
Photographer: Jeremy Bobrow
Assistant photograher: Vanessa Tetreault
Models: Dimitra, Louka & Kasia @ Next
Hair: Allison
MUA: Nathy Fong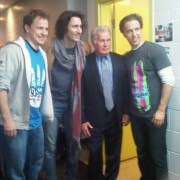 I was lucky enough to be able to assist the celebrity makeup artist Ally Zwonok during the 2 days "We Day" event that was held at Theatre St-Denis.  It was a wonderful experience, meeting inspiring people and some celebrities too!  Amongst them were: Martin Sheen, Jesse Jackson etc…And some cool artists; Nikki Yanofsky, Midway State, Radio radio, Shawn Desman and more.
As often in these events, you meet so many interesting people and I wish I had the chance to get to know them a bit more but usually we have about 10mins for each makeup.  I do make the most of each opportunity, a quick chit chat while doing their makeup.  Some of the speakers and performers I did on that day were; Miss teen Canada, Nathalie Lambert, Sylvie Frechette, Robin Wiszowaty, Michael from Midway State, Jacques from Radio Radio etc..
The loges for Nikki Yanofsky and Radio radio were just besides the makeup room and we got the chance to hear them practise before their performance.  We got our own private show, pretty neat!:)
Jesse Jackson was such a humble man and he shook our hands before leaving… that was quite a moment!
A big thank you to Ally, who's been very friendly and a real pleasure to work with:)