Retro shoot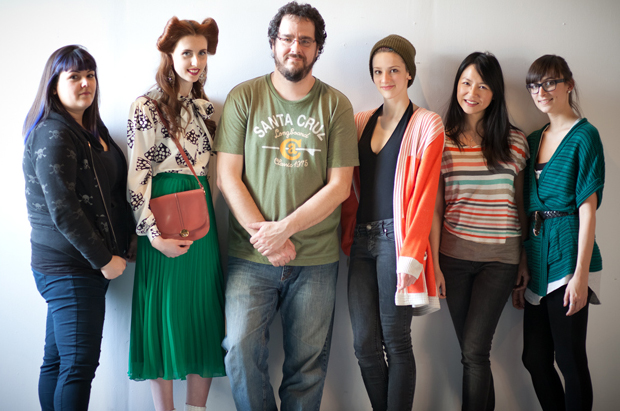 This was my 4th collaboration with the photographer Stephane Brazeau.  I've been wanting to do a retro shoot for a while and I decided to organise it by contacting the talented duo stylists; Marianne and Maude and the amazing hairstylist Stephanie.  I was happy with the team as I've worked with almost everyone on numerous occasions and I trust their work 100%.  So after some brainstorming, we picked the 40's and 60's era which made the delight of the stylists!  When I saw the clothes hanging on the rack, I got very excited, so was the whole team!  Our young model Eugenie was transformed into completely different looks.
40's look:
We had several outfits but we kept the same makeup and hair style.  I did subtle change for the color of the lipstick to better match the clothes, but the rest of the makeup was kept clean and simple due to the elaborate hairstyle, beautifully executed by Steph.
60's look:
Obviously it had to be influenced by the Twiggy look!  I started with a pale eyeshadow and later on added a baby blue/green eyeshadow for a slight change.   Once again we went through different outfits and tried 2 different hairstyles.
At the end, it was really a team effort combining everyone's talent to produce a successful shoot.  There's a comfort level working with the same people.  I personally enjoy it a lot, I like the camaraderie on sets and since we trust each other, this adds value to the work relationship.  I have tremendous respect for the people I collaborate with and I absolutely admire each and everyone's work.  Marianne and Maude have the knack of finding just the right clothes and accessories, it fascinates me how they get their inspiration!  Steph is funny and so talented at what she does.  Eugenie's beautiful features were perfect for this shoot.  I've always enjoyed working with Stephane, not only is he an honest man, but also a versatile, talented photographer with an open mind.
Here's a more detailed summary of our shoot: http://blog.stephanebrazeauphotography.com/?p=1734
Photographer: Stephane Brazeau
Model: Eugenie
Stylists: Marianne Dubreuil and Maude Bourcier
Hair: Stephanie Choquette
MUA: Nathy Fong